The ideal property for a good return on investment – average rental prices
Location
The main factor that affects a rental property's marketing chances is its location. Centrally located properties in lively residential districts are preferred. At the top of the popularity scale are the Nordend, Sachsenhausen and Westend districts, followed by the downtown area, Bockenheim, Bornheim and Ostend.
Transport connections and infrastructure
For renters of furnished apartments, who usually have few contacts in Frankfurt at first, an attractive urban living environment is often more important than a quiet patch of green. Potential renters prefer apartments with good U-Bahn (subway) or S-Bahn (streetcar) connections to the downtown business district. Walking distances of up to 10 minutes to the nearest station are usually acceptable. Shopping and athletic facilities, restaurants and parks also play a role in the rental decision.
Apartment style
Most of our customers are between the ages of 25 and 40 and prefer modern, design-conscious furnishings. Your apartment should be modern and attractively furnished, and should feel like a comfortable home. The apartment should be fully equipped, but should also give the renter enough room to store their own things.
Basic features
It is much easier to rent out a property if it has the following features: internet access, a washing machine, a flat-screen TV and a fully equipped kitchen (microwave, electric kettle, dishes, etc.). Renters expect blankets and pillows to be included, along with sheets and towels. We will be happy to give you more suggestions and advice about marketable furnishings.
Lease period
Potential renters often come to Frankfurt for a single project. Many times, they can only commit to a short-term lease. This should be reflected in the leases for the housing offers. A minimum lease of three months, for instance, will see a much better response than a 12-month lease.
Rental prices
Average rent for mid-range and good locations in Frankfurt:
| | simple furnishings | good furnishings | luxury furnishings |
| --- | --- | --- | --- |
| | *** | **** | ***** |
| Studio apartments | € 750 - € 850 | € 850 - € 1050 | € 1050 - € 1400 |
| 2-room apartments | € 1000 - € 1300 | € 1300 - € 1600 | € 1600 - € 1950 |
| 3-room apartments | € 1500 - € 1700 | € 1700 - € 2000 | € 2000 - € 2900 |
| Large apartments/houses | € 1700 - € 2000 | € 2000 - € 2500 | € 2500 - € 3200 |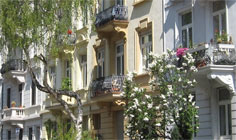 The ideal property
Die richtige Möblierung und erzielbare Marktpreise