Agency services
As a brokerage agency, we have a team of about 25 employees who can offer you the following services:
A professional pricing and furnishing consultation helps position your property perfectly on the furnished accommodations market.
We create photo materials free of charge and use them for customer presentations in all the important places where customers go to look for rentals (Immobilienscout, Immowelt, etc.).
In order to protect your investment, we screen potential renters carefully before suggesting them to you. We always perform a Schufa credit check and obtain proof of income. Proven, reviewed rental contracts reduce conflicts and simplify the rental process.
A large, experienced team of employees shows your properties to potential renters in person. Since many of our customers are English speakers, our multilingual team ensures a secure and effective rental process and can also provide valuable support before and after rentals, for instance during negotiations or in resolving conflicts.
Flexible scheduling of rental property tours on any business day (Monday through Saturday) means that customers can rent them without delays.
Our agency helps you during the property handover and return process. We can create standardized, precise inventory lists, and our protocols document the condition of the property before and after the rental in order to prevent disputes.
We are not just skilled rental brokers. We also accompany and support our landlords throughout the entire rental period.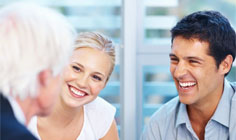 Agency services
Die Leistung unserer Agentur für Sie als Vermieter