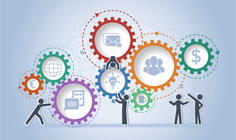 Brokering process

How to find your apartment. The most important information at a glance.
Brokering process - searching furnished Apartments
Apartment search, selection, online tour
Please look through our current offers to choose suitable rental properties. Use our detailed search criteria to ensure a good selection. You can add suitable offers to a list of favourites.
Registering
Fill out your search request and send it to us. Rental properties on your watch list will be marked automatically and sent to us along with the search request.
The process of finding an apartment
A customer service representative will contact you. He or she will give you a feedback about the requested apartments, suggest other appropriate rental properties and determine the next steps with you. You can arrange dates to view apartments, for instance, or clarify specific questions about rentals.
Rental Contracts
City-Residence provides tenants and landlords with a rental contract form free of charge, in English if desired.
Handover and return of the apartment
A handover protocol will be made at your move in to record the condition of the apartment . At your move out, the current condition is going to be compared with the protocol from the move in.
Prices
Apartments offered through City Residence GmbH are free of commission charges for tenants (§ 2 Abs.1a WohnVermittG).