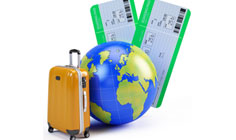 Handover and return

The most important things to consider when renting a furnished apartment.
Handover and return
Apartment handover and return
Upon handover and return of the apartment, if handled by employees of City-Residence GmbH, a protocol is going to be made to document the current condition of the apartment.
At the time of the return, the apartment should be in the same condition as at the time of handover, aside from normal wear and tear.
Setting a move-out date
The return date shall be set about 1-3 weeks before move-out.
Cleaning
The apartment has to be cleaned thoroughly and professionally after the move out in order to guarantee a consistent standard for the apartment. The costs for the final cleaning are listed in the rental contract.
Return report
A return report is going to be created that provides information about the condition of the apartment and any damage. In certain cases, the meter readings for electricity and gas also must be noted. Upon move-out, all keys have to be returned to the owner or the owner's representative.
Deposit
As soon as the landlord receives all of the information about costs (damages, special cleaning, etc.), the landlord returns the tenant's deposit. This requires an account to which the landlord can transfer the deposit amount after move-out (IBAN/BIC). Usually the deposit is returned a few weeks after move-out.
Canceling electricity, gas and phone services
If you have set up your own electricity or gas service, you must ensure that the meters are read when you move out. Your cancellation notice must be sent to the power and/or gas companies along with the current meter readings and your new address. When canceling your phone service, please also provide your future address, since the final phone bill will only be sent about 4 weeks after you move out.
Current address
Please provide an address where mail can be forwarded, as well as a current email address or phone number.
During the rental
We are available to give you help and advice throughout the term of your rental. If you have any questions or problems involving the rental, you can contact us at any time. We will stay in contact with the landlord for you and act as an intermediary if necessary.